I will start by thanking you for chuckling at my rhyming title. It's the little things, right?
I like to think of e11even as the pre-ACC experience that won't get me into a fight with a snarky waitress, get me elbowed in the face while squished up against the bar or make me pay $15 for six wings. Don't get me wrong, at play off time I will put up with the aforementioned (and probably more) but until the Raptors are back in the playoffs, I will enjoy my pre-game meal at e11even.
My date (the lovely Curious Creature) and I arrived at e11even to sample their Fall/Winter food and drink menu. Together with some of Toronto's food/drink media, we sampled sparkling wine, cocktails and scrumptuous food, enjoying a well rounded and slightly over indulgent afternoon.
As a Celiac, my food choices are always limited but I find that more and more restaurants are making meals additive and filler free…and e11even is no exception.
I was able to eat most of the food they brought out bar the Key Lime pie (looked amazing!), crab cakes and the burger buns (obviously). The food was well thought out and creative while remaining accessible and relatable. All the dishes were foods most people have heard of with a slight twist or flavour that made it uniquely e11even.
Among other things, the chef walked us through their burgers (hand pressed beef only), Quinoa salad (with mustard and kale chips), legendary crab cakes and grilled Calamari topped with cripsy capers.
Delicious!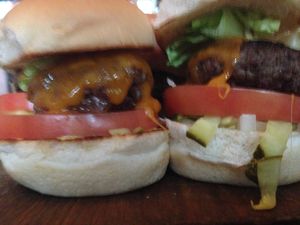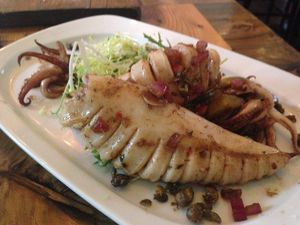 My favourite part of any meal, of course, is the wine….or the cocktails. Although we started with a basic sparkling white, we sampled a Pretty in Pink cocktail (quite sweet) and their take on an old fashioned called 'the old Carribbean,' that while delicious, for me, lacked a certain fullness or roundness.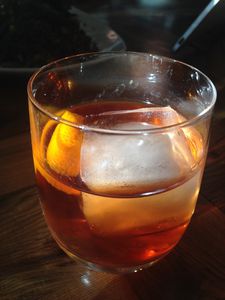 My only regret was that I wasn't able to explore their 3,200 bottle wine cellar filled with cutting edge wines from California, Italy and Canada. From what I hear, there is a rose, a red, a white or a sparkling wine in that cellar for every palatte and very mood, offering a wine adventure unlike anywhere else.
I look forward to returning to e11even to further explore the menu and to delve into their gargantuous wine cellar. It is a beautiful venue and I will definitely enjoy another conflict free, delightful, delectable pre-game drink again there soon.