New Designer, Emma Paige, launches her vintage Fall/Winter line 'Forget Me Not' at 69 Vintage event, 'One Night Stand'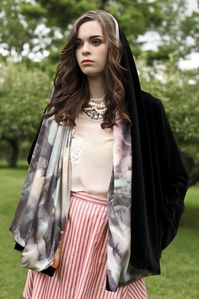 Designer Emma Paige is launching her vintage Fall/Winter line, 'Forget Me Not' this Friday, October 12th, at 69 Vintage's One Night stand from 6-11pm at 109 Ossington Ave.
A juxtaposition of both classic and modern, Emma Paige takes the classics (think Westwood, Givenchy, Burberry) and tailors their already evident elegance into a style that dazzles fashion lovers.
'Forget Me Not' pieces range from 1920's flapper dresses, 1940's day dresses, 1950's and 1960's cocktail dresses including hats, coats, lingerie, furs, shoes and more. Although label heavy, Emma Paige focuses on quality, ensuring these pieces of fashion art and history, are celebrated- even revered.
This collection encourages a smooth transition from summer to fall, focusing on creams, pastels and softer mattes progressing I slowly into a stronger/bolder feel but still keeping the vibe classy and elegant. 'Forget Me Not' Fall/Winter uses brighter colors, simple lines and sophisticated silhouettes, created through Emma Paige signature pieces, vintage jewelry, accessories and key collection pieces.
Emma Paige's love for fashion extends beyond the studio, as she shares each piece's opulent story through her blog. 'The point of my blog is to introduce my followers to each of my 'ladies' and take them through my collection one by one- share some history about each piece and share the story. Who was it made for? What is so special about this piece? Where was it made?' explains Emma Paige. I hope by sharing this information I can open people's eyes to the history of fashion and share my passion for fashion
Emma Paige will be displaying'Forget Me Not' this Friday, October 12th at 69 Vintage's famous vintage event, 'One Night Stand' held in a warehouse on Ossington.
The event runs from 6-11pm and is catered by Parts & Labor, offering a live DJ and cash bar.
For more information on Emma Paige- 'Forget me not' visit: www.emmapaige.com
69 Vintage presents 'One Night Stand':
October 12th
6-11pm
109 Ossington Ave