My quest to 'try something new every week' kicked off last week. And my oh my, it was packed chock a block full of firsts. From Thursday to Saturday, each night provided a new and exciting adventure!
Thursday took me to The Thompson Hotel for the NBCU mixer. I had heard many great things about the roof top venue and it did not disappoint.
Not only was I able to view our beautiful city lit up at night, but prior to the sunset, I was also lucky enough to witness a rainbow peak through the clouds, its vibrant colours highlighting the brilliant city scape.
I was lucky enough to converse with many successful, inspirational writers, producers and directors, all with a titillating tale to their success. With great patience, each listened to my aspirations, offering words of career wisdom. Each explored new avenues and possibilities that I had not considered for myself. I left the mixer flying high as a kite and ready to grapple my way to the top…Of what? I'm not sure but I'm ready to get there.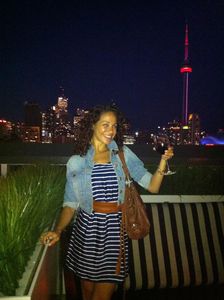 Friday I attended the Killigrew party at Nyood. I arrived sporting the softest, sexiest black top from Killigrew's women's line. I met with Gillian Downes of Nyood, responsible for PR, events and founder of Toronto's famous Frugal Fashion Week. The trend setting, boutique bar was packed with Killigrew supporters, while the famous (or infamous) Killigrew Boys engaged and charmed their many loyal and enthusiastic supporters. Many leaders of Canada's blogosphere, top fashion columnists and socialites joined the party, all leaving addicted to their new found fav fashion line. The beats were pumping, the booze was flowing and everyone was dancing their Killigrews off- some literally. The rumours are true- There ain't no party like a Killigrew party!!!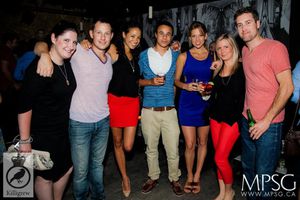 Saturday I attended The Drinks Show at 99 Sudbury. Wow- what a night! At $2 a sample drink, my boyfriend and I were overwhelmed with the many fabulous brands of liquors at our finger tips. We started with delicious Ceasers, then continued to spiced rums, triple distilled whiskies, flavoured vodkas and crisp gins. Cameras, dancers and beautiful people donned the multi-room venue, while we took part in the whisky tasting contest to win an iPad. Unfortunately, I am still iPad-less.
My boyfriend and I declined the free temporary tattoos, but were entranced by the graffiti artists and their individual, eccentric works. Hours (and lots of whisky) later, we stumbled onto Queen Street, debated Poutini's, decided against it, debated Fat Bastards Burritos, decided against it, and eventually got in a homebound cab before the Chinese restaurant across the street finally broke our 'vacation body' diets. (We came home and ate home-made quesadillas…extra cheese…) We've already marked our calendars for the 2013 show!
Prior to Thursday, I had never been to The Thompson Hotel, let alone an NBCU mixer in one of the city's greatest venues! I had not been been part of a Killigrew party, and I had never been to Toronto's fabulous, all encompassing Drinks Show. Who knew that in the first week of my new adventure, I would be slammed with such amazing opportunities.
And so it continues.
This week has already been amazing, and I haven't even gotten on the plane to Miami yet. Yes folks- I, Natty P, am losing my South Beach V-card with a bunch of girls all notorious for their ability to part-eh. Although my trip to Miami is indeed a first, filled with a whole heap of firsts in itself,(details to follow), it seems that this week's first came prematurely. Check out The Broken Heel Diaries for my first ever paid writing gig, The Renissance of the Teenage Gentleman!
So far so good, but the journey continues. Stay tuned for the next chapter of The Adventures of Natty P.