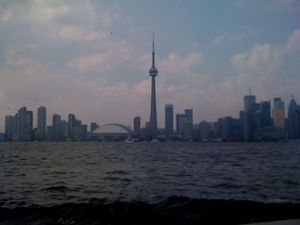 For the first time, I was scared. I could feel my face heating up and the tears welling, teetering on the edge, waiting to take the plunge down my wind burnt cheeks. I stood squinting in the sun, unsure where to go next, looking left and right, hoping to fool the passer bys into thinking I was in control. Feeling foolish, I attempted to blend in to the sidewalk, hoping no one would notice that I didn't belong. My confidence and toothy grin melted from my body. The cold, grey skyscrapers shot into the sharp blue sky; the cars tore past me and I felt like a lost child, alone and weak in a hostile city.
I know, I know- I live in London, one of the biggest cities in the entire world. I have lived there for 7 years and know that metropolis inside and out. I know where to get a decent curry, where to go for Chinese food at 5am, where to go when you want to pick up (and where NOT to go once you are no longer single), how to get from East to West in 30 minutes, how to get home once the tubes shut and where to walk after midnight only if I feel like using my fightin' words. I understand the job market (to a certain degree) and how to manipulate my way into or out of an interview. I can feel within 5 minutes if the job is mine and within 10 if I want it. London is a fabulous, diverse and exciting city but it is also the perfect place to become anonymous; I have become just another number, just another body on the tube, just another umbrella in the rain, just another bitty in a pair of heels…London is a good place to lose your soul. London- I have vanished.
The prospect of eventually moving home has always filled me with excitement. Post graduation, it is here where I have contemplated the cliché of 'finding myself,' a place where I would be a name, a person and an integral part of an existence. The opportunities, the people, the landscape- Canada was going to bring me the life I had always dreamed of. But in the wake of my first job interview, I begin to realize that contrary to what Liza Minnelli told me, everything is not comin' up roses. I am not destined to be a Mary Tyler Moore type with a montage of city landmarks, my smiling face turned to the sunny sky, twirling to an upbeat theme tune- cut to Natty buying a her morning coffee from a barista who knows her name, rubbing shoulders with the big boys, making endearing faux pas and charming the snow shoes of every Canadian she meets. Nope. Not here, my friend. It appears that what were great conquests in London are about as useful as a 15 year old condom here in Toronto. As the recruiter suggested some changes for my CV, as I am 'new to the work force,' I desperately bit my tongue, my injured pride attempting to thrash and screech, 'I am not NEW!! Look at my CV! Look what I have done!!!'
But no one in Toronto has heard of IBC, Soho Clubs and Bars and Wired Radio. They are not concerned about my time in China managing sales teams or my work with Sony. They do not care for my work within London clubs and restaurants, not to mention starting a PR/Events office in Brick Lane from scratch. My stint at Xfm, my work in Nigeria with BBC films, my role in an MTV short film and my experience with 'the' Samantha of Booked Events are all insignificant…And it appears I am not as endearing as I once thought. My once toothy white grin is a seedy yellow and my long curly hair is now an awkward menagerie of frizz and split ends- have I already peaked? Have I lived the best bits? Before my interview I joked that my only skills may be yelling and looking half decent in a pair of daisy dukes. Unfortunately, it seems that irony may be playing a not-so-funny joke on me as I reluctantly add these to 'skills' to the front page of my CV.
Everything I was once proud of is obsolete. My CV may as well be written in hieroglyphics as far as Toronto employers are concerned.
So I begin to realize that this move is bigger than I anticipated and possibly bigger than me; I am literally starting from scratch. My long awaited role as the prodigal daughter has never seemed so daunting and a small part of me wants to continue my anonymous existence in the big grey they call London. However, with that fear also comes a desire to succeed, an opportunity to draw on my strengths and surmount yet another mountain. Thank goodness I have supportive family, a loving boyfriend and great friends to stand by me, although this is something I always dreamed of conquering alone. I had visions of Canadian success that I have yet to achieve.
My time in London has helped me grow into a strong and capable young woman. (I think everyone should do a few years of their early twenties in London- it is an experience unlike any other) The time has come, however, for me to move onto the next chapter of my life, taking on new enemies, fighting new battles and winning new fights.
So watch this space, readers. I am unsure of what activity will fill it but it will be amazing and it will be all me: Grade A, quality, sparkling, extra spicy Natty P.