Between the tube strike and the 2 inches of snow London has seen fall, over the past week I have come to the conclusion that TFL is about as useful as Anne Frank's drum set.
Being sequestered in my house, though exciting at first, is beginning to play on my sanity. Not to say that a week full of Davina McCall workout videos, Zelda and Dexter hasn't been enthralling and I cannot complain about my fabulous family who have been joining me in my 'indoor activities' (I think we are all allergic to snow), but my lack of presence in a pub or in the student union or in the radio studio just doesn't sit well with my psyche. I have even found myself harassing my (gorgeous) boyfriend 3000 miles away via IM as he toils away over 10lb books and pumping station drawings, while my biggest conflict is CSI or Criminal Minds. Out of sheer boredom, I have even planned our next 2 holidays before the poor guy can decide if I am worth hanging onto…(I see a future full of take away Chinese and many cats…) In all honesty, I should be perfecting my essay writing skills but with this inability to GET to Uni, I fail to feel the urgency and therefore, I am idle, instead, perfecting the art of procrastination….Yesterday, I opened a bottle of wine at 2 pm….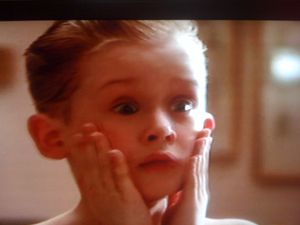 I suppose this week spent indoors with minimal contact to the outside world could be worse. Hearing Band-Aid and John and Yoko's guilt wracking tunes, I should be happy I am inside wearing a 6 ft something man's baseball track pants and a custom knit sweater, turning down the radiator when I am too warm, watching Home Alone (did I mention the red wine) and not stuck in a village in Africa swatting flies and debating whether or not this growth on my leg is fatal.
However, in my six (and a half) years in London, I have learned that as a 'Southie,' I am hereby permitted to moan and whine about anything and everything, be it the weather ('It's too bloody hot!' 'It's too bloody cold!'), the tubes ('bloody tubes are useless!!') or a favourite, the socioeconomic climate of the country ('Bloody Cameron! Bloody Clegg! Bloody schools! Bloody Royals! Bloody Bloody Bloody!).
This country's inability to get anything right is both humorous and harrowing. Oh yes, we are famed for our West End, our Celeb Chefs and our closet racist Royals, but I see the real you, London. I see the mask slipping to reveal the centuries of skin grafts and scars that run deep below the surface of that seemingly stable smile. I know your secrets and you know mine; caught on CCTV as I shower, as I sleep, as I attempt to find my own way, only to find you have already set my course. I am subject to your unquestioned control of my education, finance, the ability to know my whereabouts at all times, not to mention the intense battle of societal hierarchy! Although enticing at first, you have made me realize there is more to my existence than alcohol bans, the Oxbridge boat race and Tikka Masala.
London, I defy you! I will not moan, I will not talk endlessly about the weather or 'Kate and Will's engagement'! I will not sit idly by while you figure out how to find your dignity beneath this thin veil of snow! No, I will brush the flakes from my walkway and proudly begin the 6 hour walk to Uni (void of tube or train), fighting to pave my own future under the grey sky that you call the capital of Europe! I am lovable, capable and powerful!!
Watch out London, here I come!!!
…Right after the X-Factor…